Jabra Pro 900 Series Headst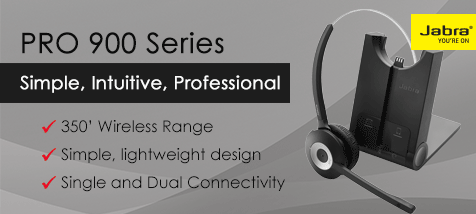 Why choose Jabra Pro 900 Series Headset?
120 Meter/350 Feet Wireless Freedom form your desk phone
Transfer calls from desk phone to your mobile device & continue your call as you head out the door.
Connect your headset directly to your PC or your mobile phone/tablet without the base.
Crystal clear sound and safe sound levels
remote call control gives you the power to multitask and be productive
Soft, comfortable ear cushions for all day wearing
Noise-canceling microphone reduce unwanted background noise
Adjustable headband for a perfect fit
Dedicated button to answer/end calls
Separate buttons to mute call or turn volume up or down
The Jabra Pro 900 series puts the freedom and convenience of wireless communication in everyone's reach. You can now walk and talk up to 120 meters/350 feet away from your desk for improved collaboration, multi-tasking, and productivity.